Do you know what Fo and Po values are?
Do you know what values to apply for the pasteurization or sterilization of your preserves?
At TERRA Food-Tech® we explain what Fo and Po values consist of so that you can pasteurize or sterilize your preserves efficiently and safely and, in addition, we leave you a downloadable file with all the relevant Fo and P values to apply in most food products.
When preparing the commercialization of a preserve, it is essential to pasteurize it or sterilize it in an autoclave to be able to preserve it for long periods of time by totally or partially destroying microorganisms or spores. During this thermal process, it is especially important to try to minimize changes in color, texture, aroma and nutritional values. But how to do it? To do this like a professional, it will be key to correctly determine the appropiate F0 and P0 values. Do you know what the Fo and Po values are? Do you know what they are used for?
Fo and Po values: sterilization and pasteurizattion of food products
Sterilization and pasteurization are techniques to preserve food that consist in placing the food in an airtight container and subjecting it to high temperatures for a certain time to destroy the microorganisms and spores that inhabit them. Subjecting food to high temperatures inactivates and destroys these microorganisms and spores, but what temperature is required? During how much time?
A lower temperature with a longer time will kill the same amount of microorganisms as a high temperature with a short period of time. But, with one important factor: very high temperatures significantly alter the texture, nutritional values and flavor of food products. For this very reason, it is essential to correctly determine the time and the appropriate temperature used in the autoclaving process.
The thermal value of the treatment achieved with this temperature/time relationship is known as Fo for sterilization processes, when temperatures above 100ºC are used, and Po value for pasteurization processes when the temperature used is below 100ºC.
Adjusting Fo and Po values in TERRA Food-Tech® autoclaves

TERRA Food-Tech® autoclaves are designed for the cooking, pasteurization and sterilization of preserves and other food products. Our equipment allows a simple and precise adjustment of the following parameters: Fo and Po values, the maximum temperature to be reached during the sterilization phase and the duration of the sterilization phase, all according to the specific needs of each food product and the target organoleptic properties of the finished product. If we figure out the right combination of these settings, the pasteurization or sterilization will avoid excesses in exposure time and too high temperatures and we will be able to obtain finished products with preserved color, texture, flavors, aromas and nutritional values.
Our compact autoclaves use a temperature probe placed in the center of the sample product for a perfect control of the sterilization process, preserving the organoleptic properties, minimizing possible changes in the nutritional characteristics of the finished product and complying with all applicable requirements and regulations of the food industry.
All Fo and Po values to sterilize and pasteurize any food product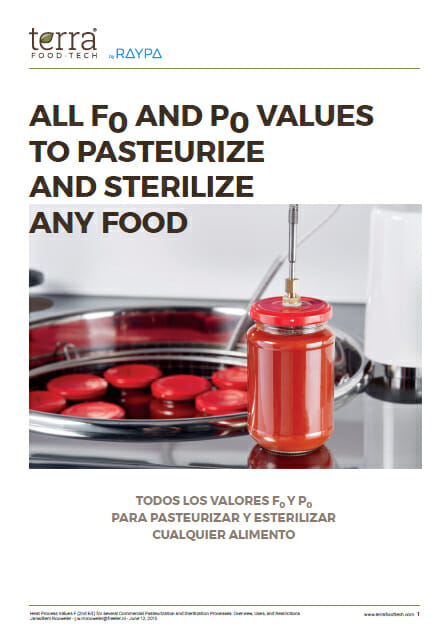 If you would like to introduce yourself in the exciting world of canning or want to carry out tests on new products and formulas, you will find here a downloadable document with all the relevant Fo and Po values to pasteurize or sterilize any food in an autoclave.
Source: ACADEMIA.edu
TERRA Food-Tech ® autoclaves to pasteurize and sterilize any food

Also remember that at TERRA Food-Tech® we have a Consultancy service. Our experts will help you develop the perfect formula for your product, carry out feasibility tests and adjust the programmable values until you achieve the final result that best suits your needs and production rates.
And remember that the acquisition of any of our TERRA Food-Tech® equipment includes a free first basic consultancy service to carry out the sterilization or pasteurization of your product in a satisfactory way. We also have a "Premium" consultancy service for a more detailed study of your food product. You will find more information about our consultancy options here.
Whether you are a local producer, an entrepreneur or a small canning company, do not hesitate to contact our sales team for more information or to find out the autoclave that best suits your business, we will be happy to help you.