The autoclave you need for a medium size production !
Autoclaves with counter pressure
Both pasteurization and sterilization are techniques of food preservation by applying heat. Its aim is the destruction of pathogens and their spores. The difference between the two techniques lies in the time and temperature of heating.
STERILIZATION
STERILIZATION is performed with different foods, such as meat, fish, vegetables, fruit… consists in placing food in a container and subjecting it to temperatures above 100ºC during a certain period of time.
PASTEURIZATION
PASTEURIZATION involves heating a food at 72ºC for approximately 15 or 20 seconds and cool quickly at 4ºC. This method is used in many products, especially in milk and its derivatives, flavored juices, beers, because the low temperatures allow the aromas do not volatilize. These foods are kept for a few days, because although the germs are destroyed, the physical and chemical changes are still occurring.
TERRA FOOD·TECH® Model CFS-50V
Our models range from 28L to 150L.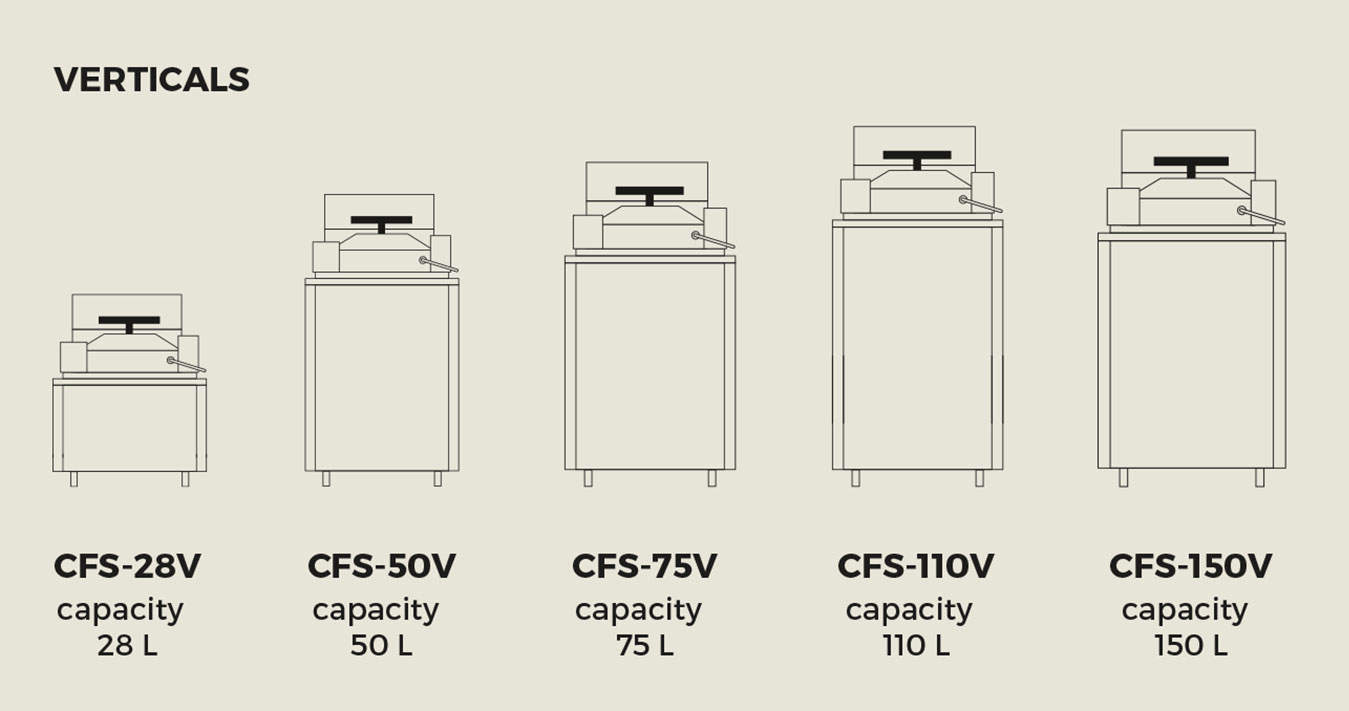 FEATURES
* Please contact us for other possibilities of voltage (3-phase, etc). ** Basket not included. No accessories.
CV
Stainless steel basket.
SW8000
Program for viewing and editing reports with results
Safety measures
Safety Valve

Safety Thermostat

Open door alarm

System door lock with positive pressure detector

Detector of water pressure

Water level Detector

Heat shield around the door

Protecting chassis for the sterilization chamber
Regulations
European rules regulations and directives in compliance are:
UNE-EN-ISO 9001:2015 Quality management system
A-61010-1 Safety requirements for electrical equipment for measurement, control and laboratory use. Part 1: General Requirements
A 2-040-61010-2-040 Part: Particular requirements for laboratory autoclaves
A-61326 Electrical equipment for measurement, control and laboratory use. Requirements of electromagnetic compatibility (EMC)
AD 2000 Merkblatt Pressure Vessels
2014/35/EU Low Voltage Directive
2014/30/EU Electromagnetic Compatibility
2014/68/EU Pressure Equipment
CONTACT
If you need more information on our products, do not hesitate to contact us.