Spherience is a family project born in Palamós (Girona) in 2018. The pastry tradition led them to investigate and want to innovate in the gastronomic field. And they achieved it in a spherical format.
Spherience are preserves that treasure spheres of different foods, salty and sweet spheres. Piquillo pepper, soy, jalapeños, black garlic, plankton, kalamata olive, mango, honey and gold spritz. A gastronomic experience to complete the creations of the best restaurants or so that the most gourmets can prepare surprising dishes at home.
"At Spherience we believe that preserves is one of the businesses of the future. There are countless products and specific processes that can be adapted to preserves. So many that they are a world unto itself, a world of different products, flavors and textures. In addition, preserves have an essential reserve component in any pantry".

Xavier Roura, owner of Spherience
Problem: need to innovate in the food sector
Under the premise of innovating in a sector in constant change, this family tandem, made up of father and son, looked for new ways to achieve their goal. Already familiar with the food sector, more specifically that of pastry, they decided to break with current standards.
Knowing the difficulty for restaurants to make spherifications on a regular basis, after an arduous process, they found a way to prepare them and be able to serve them to chefs and cooks, without ever sacrificing quality. Whether sweet or salty, that spherical and crunchy combination makes the spheres explode in your mouth and the intense flavor of mango, honey, piquillo peppers, soy, jalapeños, black garlic, plankton or kalamata olive, spill out and flood every corner of the palate.
With this innovation they have managed to give a special and unique touch to dishes of all kinds, from starters to main dishes or desserts. Spherience spheres make the simplest recipes acquire an intense and unbeatable flavor.
Challenge: solve problems when packaging and preserving your spheres

Spherience liquid heart spheres are an exclusive and different product. However, this particularity is, at the same time, its greatest enemy, especially in the packaging stage, since at Spherience they were looking for a smooth and not very aggressive process but enough for the product to fully maintain the taste of the fresh product.
When it came to preserving their spheres, they encountered many problems due to the difficulty of finding the F0 and P0 values to pasteurize and sterilize their preserves (the maximum temperature to reach and the duration of time) to fully maintain each taste. They found that the higher this reference is, the easier it is to preserve, but it also affects the taste, texture and color of the product.
"We needed a modern, 'smart' and reliable autoclave with absolute user control to adapt it to our specific needs, which TERRA Food-Tech® autoclave has fully satisfied."

Xavier Roura, owner of Spherience
Solution: count on the consultancy service of TERRA Food-Tech®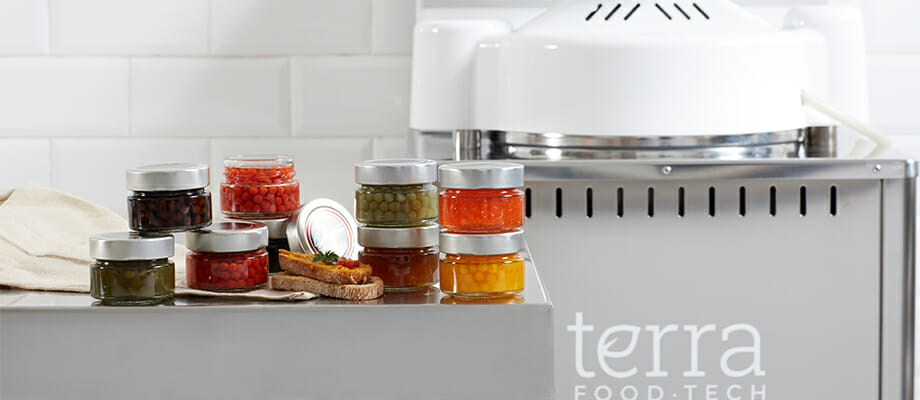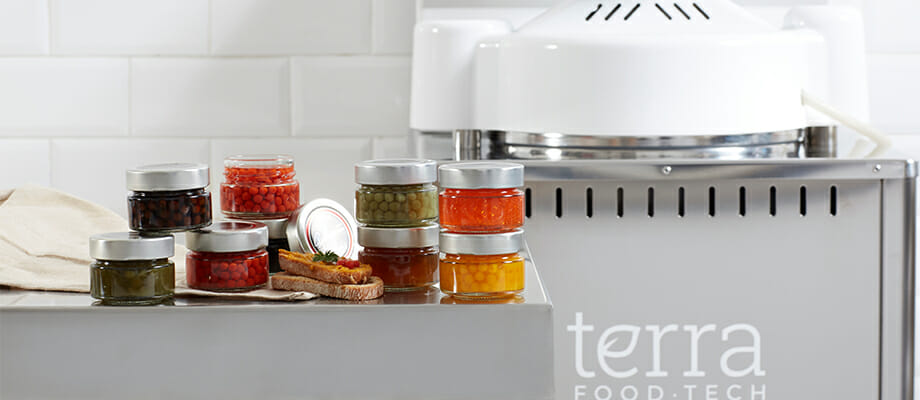 Finally, after a period of trial and error, with the accompaniment at all times of TERRA Food-Tech ®, Spherience managed to ensure that each of its products retained its authentic flavor, texture and color. Having the TERRA Food-Tech® autoclave allowed them to stabilize their spheres, achieving the perfect triangulation of all the factors involved.
"For us it was an essential process, we could not undertake the project without a specific autoclave. We decided to bet on TERRA Food-Tech ® and it can only be said that it has more than met our expectations."

Xavier Roura, owner of Spherience
The trial-and-error period was made possible by the consultancy service offered by TERRA Food-Tech®, which included process testing, resolution of any type of doubt and the training to obtain the necessary knowledge for the correct operation of the autoclave.
"At all times we obtained from TERRA Food-Tech ® a pleasant and sincere treatment that greatly facilitated our learning".

Xavier Roura, owner of Spherience