Tarro Verde is a ecological canning company located in the Cuenca mountains. Its preserves are made with 100% plant-based ingredients, free of gluten and allergens. The vegetables with which they are made come from their garden and have the european ecological certificate.
The products of Tarro Verde can be found in their online store on their website, as well as in different local organic food stores near their area. These consist of ready meals of legumes stewed with vegetables (lentils with vegetables, chickpeas with spinach and chickpeas with mushrooms), tubs of vegetable spreads (pumpkin, mushrooms or aubergines) and cooked legumes, which are packaged and labeled manually.
This project of vegan and ecological canned food won the first prize in an entrepeneurs contest of the Provincial Council of Cuenca.
Problem: creating preserves as natural as possible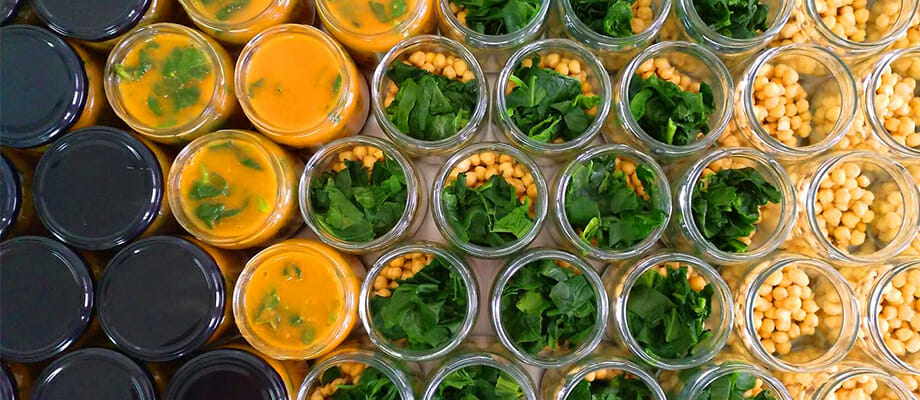 The greatest difficulty for the founders of Tarro Verde was in keeping their core principles throughout the project. These should not be lost by professionalising or scaling up and should persist.
Being respectful with the environment, avoiding the use of pesticides and promoting a circular economy were their main values and reason of existing. They bet, from the beginning, on veganism as a way to promote the wealth of their land and offer alternative ways of eating.
They understood that selling their preserves should not be at odds with slow cooking at low temperatures, in a healthy and traditional way.
Challenge: preserve without losing any organoleptic property
Their challenge laid in their very essence, since they sought to be able to make a business out of their canning without losing sight of what led them to become entrepeneurs in the first place. This meant looking for a preservation system that, above all, would maintain the healthy properties of food and its organoleptic properties. Allowing a long-lasting shelf life of the preparations and a conservation system committed to the environment.
Solution: an autoclave that allows cooking in the container itself
To do this, Tarro Verde studied the different options for existing containers on the market and also for canning sterilizers. Finally they opted for glass jars and a TERRA Food-Tech autoclave ®.
"The autoclave is a fundamental piece of our production process, part of our preparations are cooked in the jars themselves at low temperatures inside the autoclave before starting the sterilization process at high temperatures."

Augusto Gil, owner of Tarro Verde
TERRA Food-Tech ® provided them with the relevant technical information and offered them the opportunity to visit their facilities in Barcelona. Right there they were able to see the autoclaves that best suited their needs and learned how to use them. And the consultancy service included with the purchase of the autoclave helped them to resolve, via telephone or email, all the initial doubts that arose when starting to operate with the autoclave.
Thanks to all this, now from the humble Tarro Verde workshop in Ribatajada they have been able to deliver their ecological, vegan and allergen-free products to all over Spain and are also in contact with companies from other countries to export.
"If you are looking for a compact and reliable autoclave that suits your production level, we would definitely recommend TERRA Food-Tech® autoclaves. In our case it all worked out perfectly."

Augusto Gil, owner of Tarro Verde