EatNow Food was born out of MyMeal Catering, an Indonesian catering company created by Ignatius Zaldy to offer a personalized catering service based on healthy food. Its main mission is to offer a healthy diet to as many people as possible through batches of food packed in pouches.
Their customers can choose from more than 200 menu options ranging from local cuisine to international dishes. All their products are organic and freshly made in their own kitchen without monosodium glutamate or preservatives.
EatNow Food makes different types of food available to the whole Indonesian society with an extensive product offering ranging from fruit juices to chicken meatballs, beef teriyaki, sweet and sour tofu, rice or steamed fish.
Problem: expand production to reach more customers
The success of MyMeal Catering has been undeniable. The Indonesian society has been interested and has demanded their services, but this is limited, since they can only offer their food to a certain number of people. Hence, the idea arose to start a line of preserves and ready meals prepared with the desire to be able to help the more men and women the better.
However, such good intentions have also been their greatest difficulty. In Indonesia there are very few companies that offer healthy food in pouches.
That is why they have been forced to open new business paths and carry out dynamics that have not been experienced so far.
Likewise, offering healthy food has meant for MyMeal Catering, in its beginnings, and for EatNow Food now, breaking with certain patterns of the Indonesian society in terms of food. As well as introducing new flavors, more natural and less seasoned.
Challenge: be among the first to offer healthy food in pouches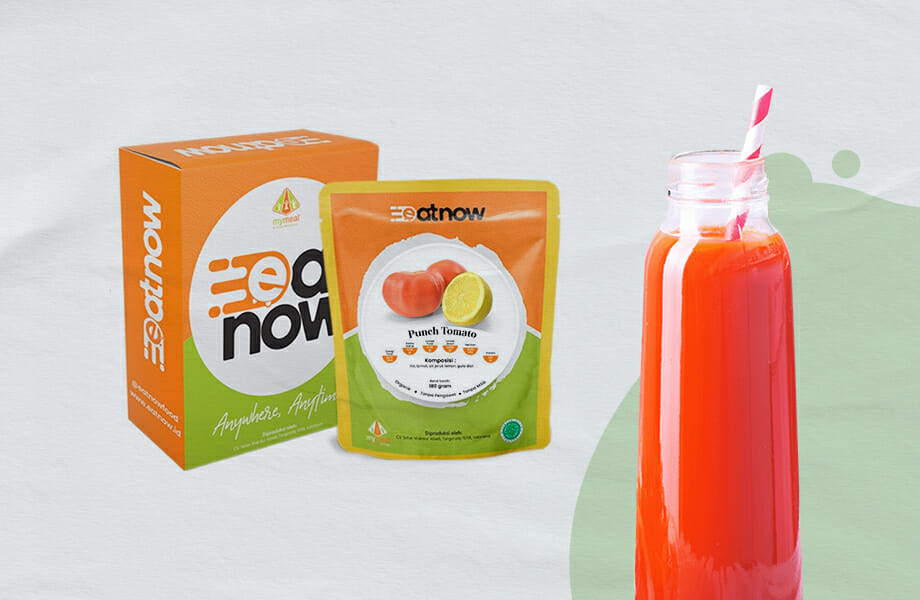 From the very beginning EatNow Food has sought to break with establishment canons and, despite some setbacks, they have not doubted their idea at any time. They are well aware of the importance of reaching society with different options of healthy food.
That is why vegetables predominate in their menus and preservatives and monosodium glutamate are eradicated, being the later a food additive widely used in oriental cuisine and which according to several studies, it is not recommended for continuous human consumption. Achieving this objective has been a challenge, especially when it comes to preserving. From EatNow Food they confess that they had difficulties to preserve several of their ingredients, especially vegetables.
"Resolving our difficulties in preserving properly our products has meant everything, as it has allowed us to pioneer the development of a complete set of healthy meals in pouches."

Ignatius Zaldy, Manager Director at EatNow Food (MyMeal Catering)
According to different investigations, people who ingest too much monosodium glutamate can experience what is known as "Chinese restaurant syndrome". Its typical symptoms are burning in the chest, shortness of breath, nausea and headaches. In the long term, it can lead to serious illnesses, such as hypertension.
It is called "Chinese restaurant syndrome" because MSG was widely used in Chinese cuisine in the 1960s, which is when this disease was discovered.
Solution: maintain organoleptic properties and improve productivity
"The TERRA Food-Tech® autoclave plays a very important role in the development of our products in terms of new products, lower defect rates, faster processing time and better preservation."

Ignatius Zaldy, Manager Director at EatNow Food (MyMeal Catering)
After much trial and error, the EatNow Food research and development team with the guidance of the TERRA Food-Tech® technical team managed to maintain the organoleptic characteristics of their food pouches almost at 100%, while achieving a much longer shelf life after autoclave processing.
Likewise, this improvement has meant an increase in the productivity for EatNow Food, since it has drastically cut the total process time and a considerable decrease in batch failures.
With the sole purpose of getting the best product, in addition to helping them with the installation of the autoclave, the TERRA Food-Tech® team has also guided and oriented the EatNow Food team, despite being thousands of kilometers apart and with a time difference of several hours.
"We believe that preserved food is a very promising business opportunity. Not only because of the quality and convenience they offer, but also because they are extremely useful during times of crisis, such as natural disasters."

Ignatius Zaldy, Manager Director at EatNow Food (MyMeal Catering)