In addition to allowing time and money savings, making canned food at restaurants is also a great business opportunity
The pandemic — A moment to reinvent yourself
If you are a professional restaurateur, chef or cook, you certainly know that restaurants have received a hard blow with the pandemic. Closings along with hour and capacity restrictions have caused many establishments to close their doors or seriously think about it. Amidst this situation, many professionals in this industry have had to reinvent or are reinventing themselves so as not to lose all that they have worked so hard for. If you are in this situation, we suggest you consider elaborating canned food as a business opportunity, to promote loyalty among your customers and also as a way to save time and money.
The restaurant business, an industry with a lot of downtime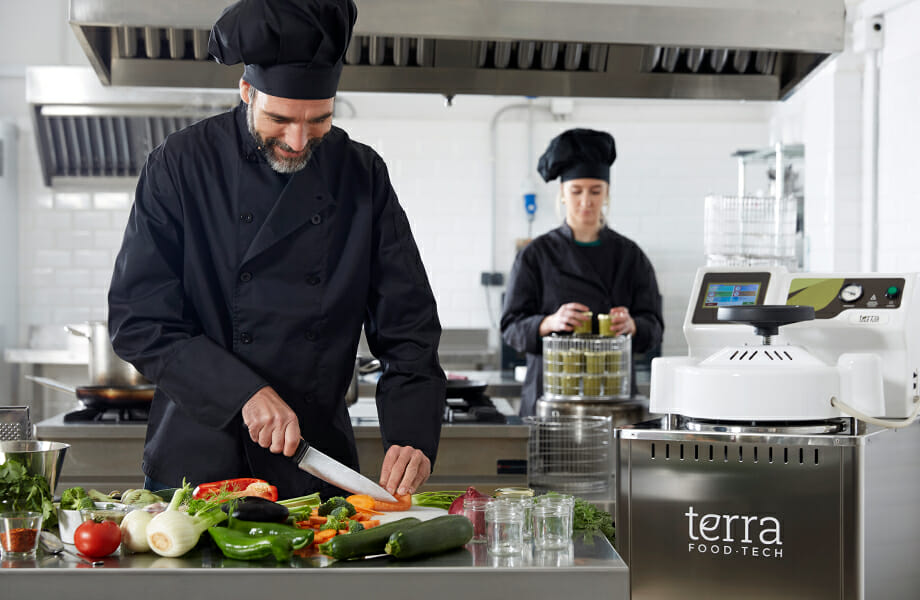 On the other hand, as a restaurateur, chef, or professional cook, you know well how fickle this sector is. And not only because of seasonality but also because of the dependence on the situation and its inconstancy during the different hours of the day. And yes, it is true, that there is a lot to prepare before the diners start arriving, but it is also true that there is a lot of downtime in between, especially in the kitchens.
One way to take advantage of these idle hours is to prepare canned food for later use in your plates, or even for selling.
These sofritos, sauces, broths, stews, jams, etc. Before being stored, they must be pasteurized or sterilized correctly to ensure that they do not cause any health problems among your customers or with health regulations. That is why we suggest you carry out the pasteurization or sterilization professionally with an autoclave.
Advantages of making canned food at restaurants
As we said, this is a way to use downtime and then speed up work at the stoves.
This also helps to avoid food waste. Although one always plans for the ingredients needed in a weekly menu, it might be that some product is getting bad or about to expire. Canned food at restaurants is a great option to avoid this waste.
Making the most out of seasonal fruit and vegetables and, consequently, saving money and offering top-notch products all the time. Here is an example: Oranges are a Winter fruit; therefore, offering orange dishes during a season such as Summer can be difficult and expensive. However, if you stock yourself with this citric during Winter and then make orange marmalades, for example, you can always offer a tasty, natural orange jam cake in your menu.
Canned food in restaurants — A new line of business
Due to things like the current COVID-19 situation, making canned food at restaurants becomes a business option that deserves serious consideration. You can sell your products both to your restaurant customers and through e-commerce.
This idea might sound crazy to you in the beginning, and maybe you believe that selling stir-fries, sauces or soups can be counter-productive for your business, but one thing does not need to be consequence of the other.
Our life have gone through some changes. Some of them seem to be here to stay:
The habit of attending closed spaces has lessened in general, and particularly for restaurants. This is due to restrictions and/or recommendations, as well as the fear of catching the virus.
The practice of cooking at home has gained traction, specially during and because of lockdowns.
The interest in healthy food has multiplied. We have realized of the importance to take care of both our outer and inner selves. We are betting more for proximity, healthy and green food.
Success Stories of Chefs Making Canned Food
We would love to have been the inventors of this great idea, but that is not the case. Chefs such as Luca Marchini or Antoni Izquierdo have inspired us with the idea of producing canned food at restaurants. If you also want inspiration, check out our success stories and let yourself be guided by their experience and the fascinating world of canned food.
TERRA Food-Tech® Autoclaves Serve the Restaurant Business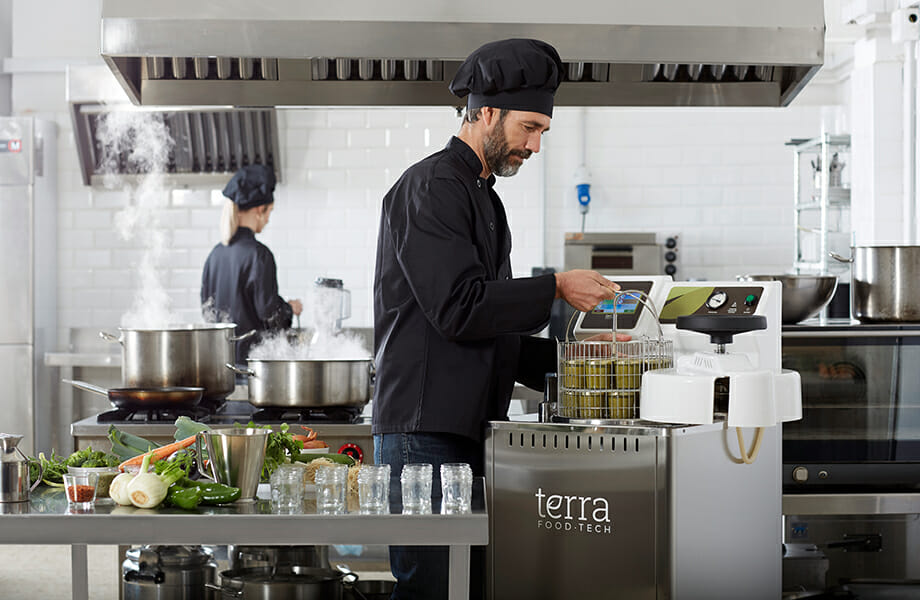 Thanks to the TERRA Food-Tech® compact autoclave it is possible that both restaurateurs and other professionals in the industry can easily cook, pasteurize and sterilize all kinds of packaged food: fruits, vegetables, meat, fish, soups, creams, purees, juices, marmalades, sauces, stir-fries, pates, prepared dishes…
Furthermore, TERRA Food-Tech® knows that the food quality and safety is a serious matter, and since 2013 we offer guidance and advice to our customers at all times.
Our technical and nutritional guidance consists of walking you through the process of elaborating your own canned food. From helping you calculate the production volume to finding the optimal sterilization values or explaining you how the autoclave works, and more. Similarly, our team can guide you through any other issue related to quality, hygiene and food safety.
Together with RAYPA, a global leader in the manufacturing of sterilization equipment with over 40 years of experience, TERRA Food-Tech® teams with restaurateurs, micro business owners and small producers of canned food who are looking to offer the best product and deserve the best of services. For more information, don't hesitate to contact us; we will be happy to assist you.